The current pandemic has caused a lot of people to lose jobs and a steady income very unexpectedly. Many companies across most all but a few industries are shut down. We are experiencing a complete financial shutdown and we should expect it the get much worst. Many more people will lose jobs and may not be able to get them back or will be forced to take a much lower-paying job or rely on unemployment benefits.

The strong economy that has been touted for the last couple of years was a smokescreen to hide the fact that the economy was not strong at all but on the way to total collapse. As we are witnessing, it only takes one major event like the Coronavirus pandemic to wield havoc on not just the US economy but the entire globe.
This should be a wake-up call for all of us to start thinking of new ways to earn income, especially passive income. The days of depending on a job or just one single source of income are not the way to go. You absolutely must build multiple streams of passive income to hedge against economic failures in the future.

One way to earn passive income is through trading. Now more than ever it is much easier for anyone to learn how to trade. Many platforms a free demo account without using your own money to learn to trade all types of securities.

There are some different approaches to consider when trading like day trading where all trading is closed out by the end of the day. Swing trading is a more long term where trades are typically close after a few days or weeks. Scalping trading is more short term where trades are open and closed very quickly to take advantage of small price movements. Each method requires a different skillset and discipline.

Before going further I just need to add a disclaimer here.

I am not giving advice here as I and not a licensed securities broker. Please trade at your own risk. That said I would strongly suggest that before trading any of your own money, try practicing with a demo first at or at least start a small amount of money that you can afford to lose.

So, if you are new to trading now is a good time to get started. If nothing else you will learn how to trade and build a passive income stream so that if you do lose your job you can still make money.

Keep in mind trading is not a get rich quick scheme, but you can earn a consistent income and this is what is needed to hedge against lost income when another life-altering event happens.

There are several securities in which you can trade. Lets breakdown some of them.
Trading Stocks
Basically what you are doing here buying and selling shares of companies. Depending on the market the price of a share can go up or down. How you profit is by buying when the share price is down and sell it for a profit when it's value goes up. Conversely, people typically sell a stock well the price starts to decline in the market to protect their money or to make a profit.

Stocks can be heavily dependant on supply and demand as well as major industry news and should be studied closely for a better understanding of the market.

Here are a few recommended platforms to get started trading stocks.
Robinhood is a new platform that simplifies the trading process and it a great way to start trading stocks. The is no minimum deposit so the risk is very low. It is very easy to do some research on possible companies to trade and they also offer the option to trade crypto.

Some more brokers to consider:
Trading ETFS
ETFs or Exchange Traded Fund is basically like a hybrid of mutual funds and stocks tracked by an underlying index like the S&P 500. ETFs can be a collection of securities or stocks and are listed exchanges and traded like a stock.
There are many brokers to join and start trading ETFs. Most of the common brokers in this market are eTrade and Ava Trade.

Trading Metals
Precious metals like gold, silver, platinum, and palladium are traded against currencies like the US Dollar. It is considered to be a great way to earn passive income and is a common alternative to fiat currencies. Again trading metals are very supply and demand dependent. Study the markets thoroughly to get a good understanding of how to trade more.

A platform to check out is One Gold where traders can trade gold, silver to hold.
Easymarkets is a platform were gold, silver, copper, platinum, palladium is available for trade.
Trading Commodities
Commodities are an important part of today's society and offer huge passive income possibilities when traded. They can be a great way to diversify passive income. Commodities include metals, oil, natural gas, Livestock, or rice and sugar to name a few and are considered to be a good hedge on down or bearish stock markets.

Trading Indices
Indices are the measurement of the performance of a group of shares and they can be traded. Some common indices are the S$P 500 or the NASDAQ. The correlation between global economic events and the price patterns of major indices is a key understanding of how and when to trade.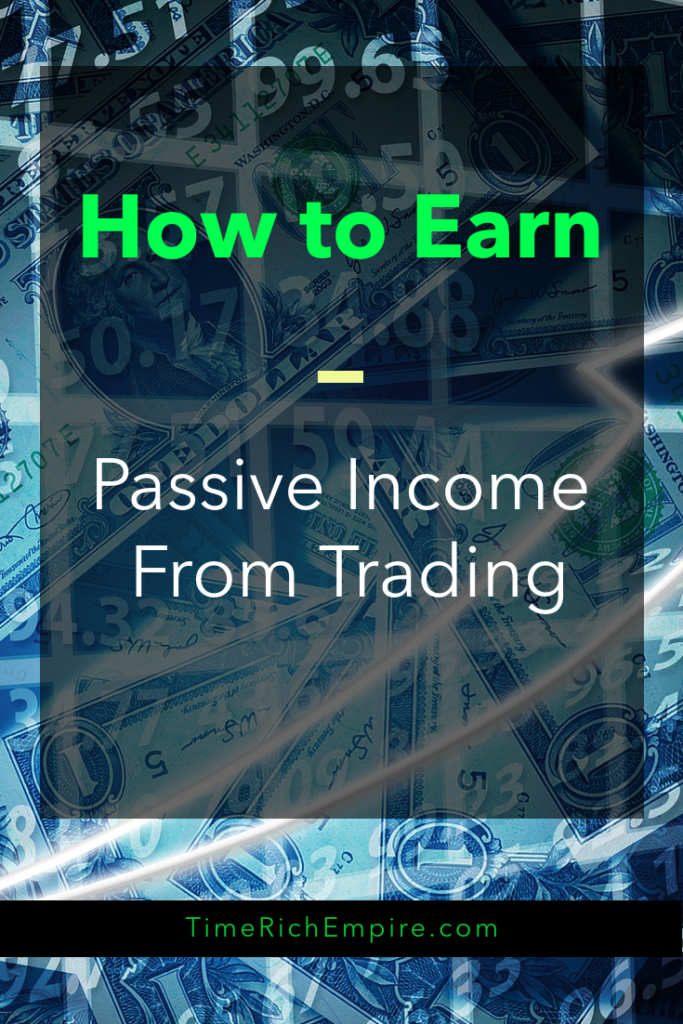 There are several indices from which to trade:
Some recommended brokers are:
XTB
IC Markets
Pepperstone
Easy Markets

Trading CFDs
For finance, a contract for difference is a contract between two parties, typically described as "buyer" and "seller", stipulating that the buyer will pay to the seller the difference between the current value of an asset and its value at contract time.
How trading contracts for difference (CFDs) works is that when financial markets are speculated it doesn't require the actual buying and selling of any underlying assets. They require very little initial investment but offers good upside. CFDs provide traders with all of the benefits and risks of owning a security without actually owning it or having to take any physical delivery of the asset.

It's a good idea before getting started with CFDs to find out everything you will need to know for how it works with short trades, leveraging, and hedging.
Here are some of the top brokers that you can sign up and start trading CFDs. (If you live in the United States there are no brokers that offer CFDs to trade.)
Trading Forex
Forex is a market where fiat currencies are traded. Before the internet Forex trading was only available to commercial banks and hedge funds. Now however individuals and trade Forex through a broker. The Forex marketplace is the largest most liquid market in the world. On average daily trading volume for Forex exceeds $5 trillion every single day.
A great place to get started and learn the basics is Babypips.com. There is a fully online course that will get anyone ready to trade Forex. For anyone who wants to trade while they learn there are two options here. A new trader can opt to set up a demo account with Oanda.com and practice trading the market with a dummy account. Oanda has a good mobile app as well which makes it easy to trade Forex.

The other option is to sign up with the Apiary Fund.
Apiary Fund is a hedge fund that offers a hands-on trading course including money management, risk, indicators, and more. A new trader is required to complete certain requirements in order to move to the next level. Complete all the requirements and a new trader can get funded and trade with their money.

Forex trading as with any sort of trading require discipline, the right mindset, and good money management. For this reason, it is recommended that the new trader get a copy of the Forex Profit Planner. It is a printable planner for the guides, new traders, to develop a profitable trade plan.
Some good brokers to try are:
Blueberry MarketsTD Ameritrade FX

Trading Cryptocurrencies
This is a new market where one can trade cryptocurrencies also known as Crypto. It is known to be highly volatile so one can stand to make a huge profit or losing their shirt. However, if traded correctly it offers a good option to earn passive income. It becomes very popular because it is a digital and decentralized currency that can be easily transferred.

eToro is a social cryptocurrency trading platform that is well suited for new traders. Anyone and join and set up a demo account and practice trading until they are ready to drive in with a minimum investment of only $25. They have a copy trader feature where new traders can copy more successful traders to earn more money. The only drawback is you can not trade the downside you can only buy.

One platform where traders can buy and sell cryptocurrencies is CoinBase. It is more suitable for a buy and holding approach to building a passive income. You easily buy crypto with a credit card.

Here are some more brokers to try.
CEX-IO trade cryptocurrency and fiat currency pairs.
Crypto Hopper uses their bots to increase trading performance.

Trading Consumer Debt
The growth of crowdfunding has provided some unique opportunities for anyone to earn passive income. Now anyone can fund consumer loans as an investor for people wanted to borrow money for things like debt consolidation, fix up their home, car loan, etc. This can be a great way to generate steady passive income.

Prosper is one such platform where one can invest in consumer loans. An investor can risk level, the investment amount from $25 and up and well as the yield. The return on investment can be much better than leaving money in a bank account. Users on this platform can directly connect with investors through one of the most trusted social lending networks. Prosper offers a good long term passive income option.
I hope that you found this article helpful. If so please give is alike and leave a comment.