"Are you struggling with your Pinterest channel and looking for better solutions to grow your online income?"
Don't worry, this is a typical problem that most individuals encounter when starting out and hoping to make money with a Pinterest channel online. The major problem is not with the process but focusing on the wrong niche area.
Many deals are made because of "not what a person knows," but who they know to connect them to someone with good contacts.
"Did you know that women pay more for plus-size clothing and willing to pay more?!"
What if I could connect you to the top Plus-Size Clothing brands in the world and it didn't cost you a dime to get set up as an affiliate partner?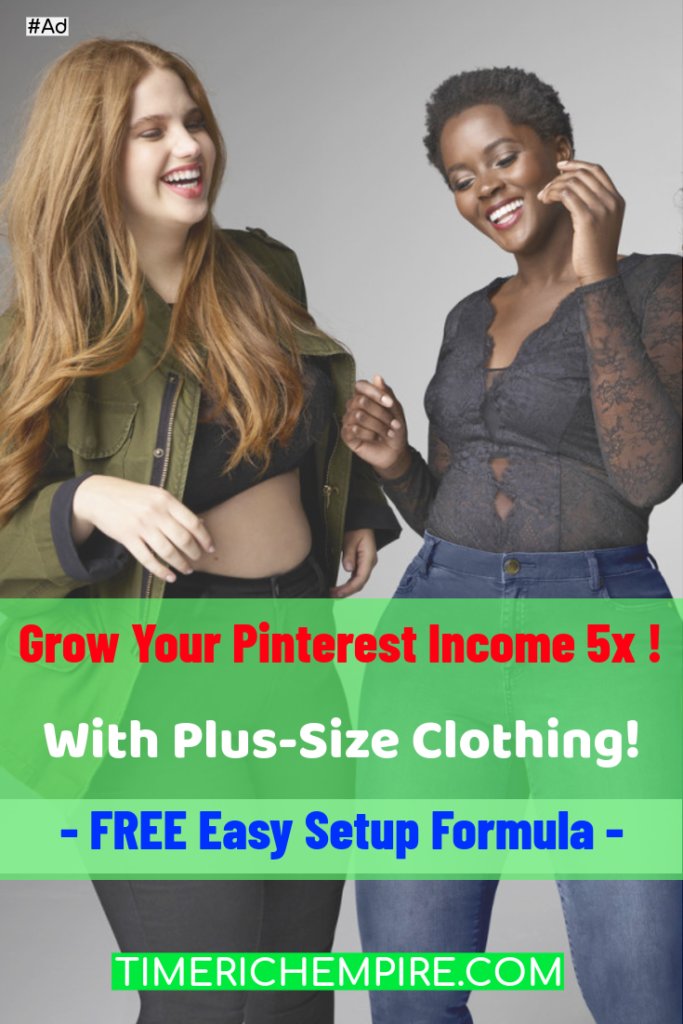 All affiliate marketing programs are not created equally, in fact, the majority of affiliate marketing programs reject or don't accept partners with less than 5000 followers.
Pinterest Business
Pinterest is big business, the platform has moved far beyond moms saving food recipes. Pinterest is now the hottest place to build social search engagement and connect with people looking to buy goods and services online.
There are over 200 billion Pin images on Pinterest with over 300 million users, 50% International users, and 85% mobile access.
Many bloggers and influencers are not aware that they could expand and grow their revenue earnings by focusing on top money-making niches on Pinterest!
In a way, I'm happy that most top influencers are not paying attention.
"If you asking, well why am I not making money with my Pinterest channel??"
"Did you know that you might not be making money with affiliate marketing because you working with the wrong networks?"
You might be approaching making money with your Pinterest channel like making money online or with social media….To make money online with Pinterest you need to focus on categories with the most interest.
"I would much rather make 250 to 500 or more sales a week online, with little to no effort using my Pinterest channel for business marketing than focusing in a niche that not enough people are interested in buying products, goods, or services!"
I prefer the passive income way of making money online over constantly having to compete among millions of competitors. Which is why I like to invest in niches that can help me to accomplish this goal faster.
(This article contains affiliate links where we recommend products or services that we love when you purchase linking from our site we receive commissions, for that we thank you!)
Inside Pinterest is money-making goldmine niches in infancy stages, if you get in now the credibility for discovering boards and ideas will be awarded to your Pinterest channel. This is because Pinterest is a search engine over a social media platform.
Before finding this article you were looking for a top solution to make money with your Pinterest channel and this article is offering you invaluable information and data about how to do just that, a "win-win" solution.
Today I'm going to show you my little marketing secret to grow your Pinterest channel that will allow you to increase your profits 5x by focusing on plus-size clothing…Nope, that's no misprint.
First – Evaluate the niche industry by conducting research.
According to Statista "Plus-size clothing is often described as clothing for larger than average people. For women, plus sizes usually start from between size 10 or 14. The average U.S. women's dress size is between 14 and 16, meaning that plus-size is the new average, although it is not typically thought of that way. In the past, Lane Bryant was the only show in town for shoppers of plus-size women's clothing, but now, many major clothing retailers such as H&M, ASOS, and Mango cater to plus-size customers."
Second – Set up a new website dedicated to promoting and blogging about Plus-Size Women's Clothing!
We recommend using Bluehost to get started for as little as $7.99 $3.95 a month. It's a fast and easy DIY process with professionally designed templates ready-made for you to select from. "It really is that simple!"
Act now today we are offering special rates and value to our Time Rich Empire audience, receive "Special intro offer and 30-day money-back guarantee" with FREE Domain Name for 1st Year, FREE SSL Certificate Included, 1-Click WordPress Install, 24/7 Support, Starting at $7.99 $3.95/month*
Third – Setup your Pinterest channel for business!
I love reading success stories about how other people increased their revenue earnings with Pinterest for business.
Create a Board on Pinterest dedicated to Plus-Size Women's Clothing. Next, you will need products to sell.
This is where having the right affiliate marketing partner is everything and matters most.
What is affiliate marketing?
Affiliate marketing is a type of performance-based marketing in which a business rewards one or more affiliates for each visitor or customer brought by the affiliate's own marketing efforts.
The top network for Plus-Size Women's Clothing is MagicLinks!
This is the program that you want to enroll in right away, especially if you looking for products to sell through affiliate marketing for Plus-Size Women's Clothing!
What's so cool about this network is that once enrolled at no cost, it's absolutely free to join and once accepted into the program you can apply to any retailers in their network without getting rejected!
Don't let the window close. Act fast today hurry.