Interested in learning about "how to make millions with affiliate marketing on Pinterest?"
No that's no misprint, this article is going to reveal that exact secret formula you will need in order to "build a million-dollar business on Pinterest" using affiliate marketing promotions!
Are they just "overly hyped up rumors that you can make money pinning on Pinterest using affiliate marketing?"
I have good and bad news….
The good news is "Yes!" you can seriously make money with affiliate marketing utilizing Pinterest as a search engine promotional platform.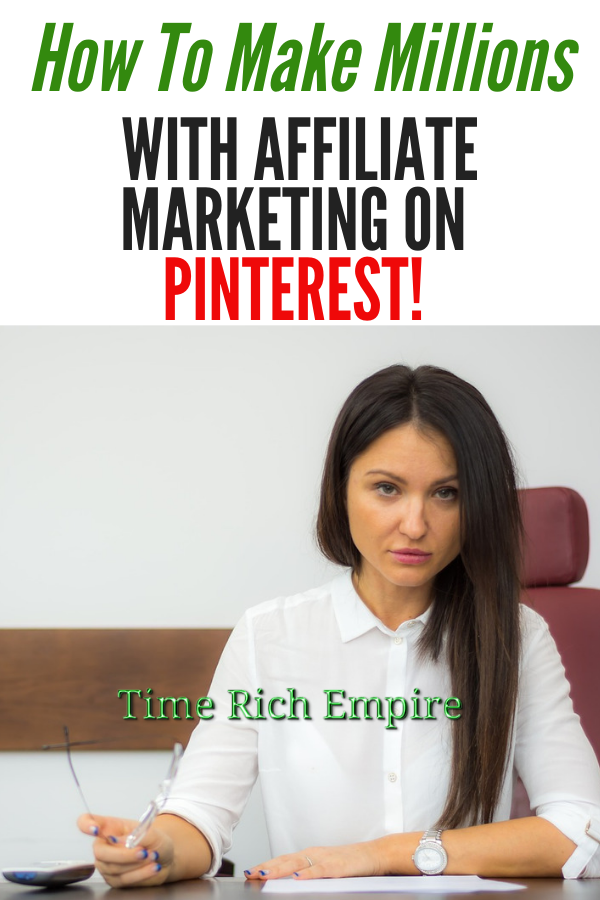 "What most people don't know is that if you think and operate like a publisher, you could actually make millions on Pinterest with affiliate marketing!"'
One of the biggest problems that the majority of people encounter is their inability to follow through. "That's the bad news!"
I recently heard an excellent inspirational quote, "If you get tired rest, just don't quit!"
Sadly, too many people give up and quit before their actual breakthrough ever happens.
Has this happened to you before, "you learn about a product or service you were interested in and clicked on the website link…but it's gone, no longer up and running?"
Well, it happens a lot because those people gave up and quit too soon before they could start to generate serious revenue online.
(This article contains affiliate links where we recommend products or services that we love when you purchase linking from our site we receive commissions, for that we thank you!)
Remember, "If you get tired rest, just don't quit!"
Tyler Perry is probably one of the greatest entrepreneurial success stories and he made his fortune creating niche content, today Perry is the mastermind behind 17 feature films, 20 stage plays, seven television shows, and a New York Times bestselling book!
"Perry is considered to be an iconic visionary."'
All of Perry's success started with the creation of written content designed for a specific demographic and niche audience.
He focused on African American inclusion and diversity in Hollywood, this concept was missing in the marketplace and his ticket sales were disruptive.
"Do you have expertise in a certain niche?"
That means that "you too" can create niche visual written content and start making money!
Perry built an empire that allowed him to attract and include his niche target audiences and offered him the rewards of building communities, all from his Tyler Perry Studios home base in Atlanta, Georgia, throughout the world.
If you know Perry's story it wasn't an easy path to his highly achieved successes today, as a youth Perry was poor, abused, homeless, and even suicidal. He was beaten by his father and also sexually abused by others.
Tyler Perry Studios is a grand "movie studio" which he purchased 330 acres of land for $30 million in 2015, on what was the former Fort McPherson Army base.
Perry poured another $250 million into the movie studio to complete the expansion. Including 12 sound stages and will extend a second phase expansion with a six-lane highway, a backlot, a small European town, and a lake.
Perry's movie studio is bigger than Disney, Warner Bros., and Paramount combined!
What's so encouraging about his success story, is in interviews he says, "I would not stop believing."
Typically, the biggest problem with failure in online business is because most people don't establish an "online revenue business model" first in order to be sustainable. They become frustrated and disappointed leading to giving up and eventually quitting in the end.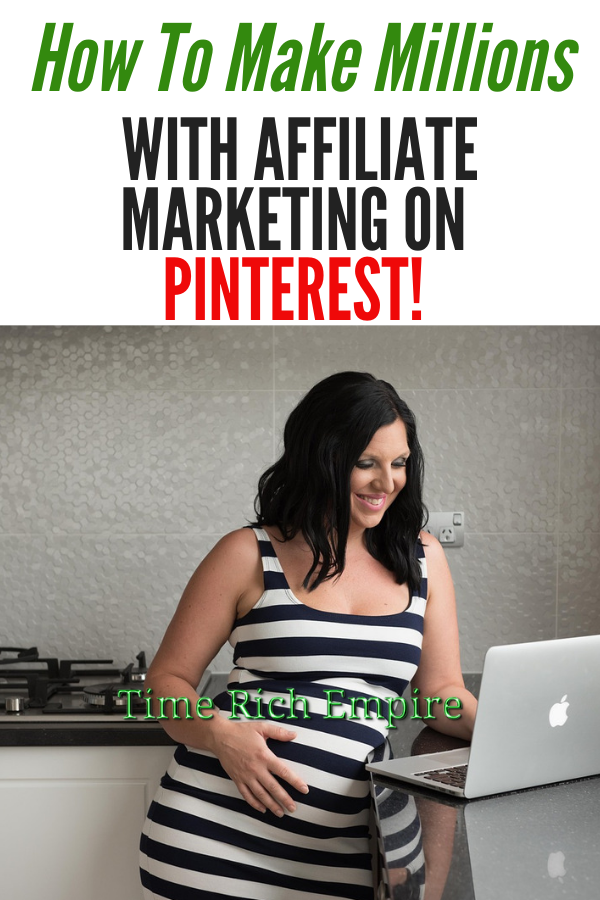 "The secret to making money online and especially with affiliate marketing on Pinterest is constant consistency in content creation and not inconsistency!"
FREE Training learn how to "Launch Your Own Passive Income Online Business" from A to Z!
FREE Training learn how to "Launch Your Own Passive Income Online Business" from A to Z!
Making money online is a very simple tried and true easy method. It just requires a commitment to stick to it and follow through.
While you can make money online with Pinterest without a website. For the purpose of this article, we will be focusing on building a content platform to get super-rich.
Whereas, if you had your own self-hosted website this would allow you to create articles with affiliate marketing links to promote on Pinterest. Prompting potential customers to click the image and make "purchases from the links" within your articles!
"A win-win solution."
So by now, it should be clear that you will need "your own Self-hosted website!"
We recommend using Bluehost to get started for as little as $3.95 a month.
For Time Rich Empire audience this special promotional offer is available for a limited time from Bluehost today right now, Click Here.
Also, you should first understand what exactly is affiliate marketing?? "Affiliate marketing is a type of performance-based marketing in which a business rewards one or more affiliates for each visitor or customer brought by the affiliate's own marketing efforts."
Your job is to create written niche content, that you will market and promote your affiliate marketing partner's products.
When someone clicks a link you recommend and makes a purchase, cha-ching you get paid!
Never requiring you to stock or buy inventory, process orders, ship products, or handle customer service issues.
"Affiliate marketing is so practical that it only sounds too good to be true!"
However, affiliate marketing is a great industry and by 2020 will reach $6.8 billion dollars!
Is there a particular affiliate marketing program that stands out in the crowd??
Yes, 100 percent and that program is called "MagicLinks!"
If you have a Pinterest channel, hurry to apply!
Congratulations, your consistency to read this article has earned you a special invite to join MagicLinks, Click Here!
A great benefit of joining MagicLinks is that once approved, you automatically become approved to participate in affiliate marketing for all their brands.
How do you make money with MagicLinks?
Every time someone purchases using a link you recommend, you get paid a commission. The majority of their brand partners offer PPS (Pay Per Sale) commissions, which means you receive a commission when someone clicks your link and makes a purchase. The best part is you receive a commission based on the entire cart value of a transaction, not just on the product you linked to. The linked-to item does not have to be purchased!
What is the key to success with MagicLinks?
Consistency and patience. Just as I explained before the key to success is constant consistency and never giving up.
It's not a get rich quick opportunity and like everything else, success doesn't always happen overnight. However, if you work hard you can see fast results in no time to produce your first affiliate sale and with consistency, you can expand to start making money on a regular basis as you build credibility and sustainability.
MagicLinks suggests that you should create and share at least 30 links per week and you may log in to your account daily to monitor data. Top MagicLinks creators are making over $100,000 a year, just by sharing products they love!
Hurry to enroll in MagicLinks today.
So you probably still wondering why Tyler Perry was mentioned in this article or thinking to yourself "I could never create an online platform to make as much money as Tyler Perry Studios, right??"
"Wrong!"
You can easily create niche written content and generate revenue using affiliate marketing on Pinterest!
Once you setup your Self-hosted website and apply to MagicLinks, upon approval you are ready to start making money on Pinterest with affiliate marketing.
It is very possible to create a "Self-hosted website from niche content" and in less than five minutes your site can be up and running using Bluehost so you can be on your way to getting super rich!!
Start with identifying your target audience. "That's exactly what Tyler Perry did and was able to provide a unique selling position for Hollywood in the process!"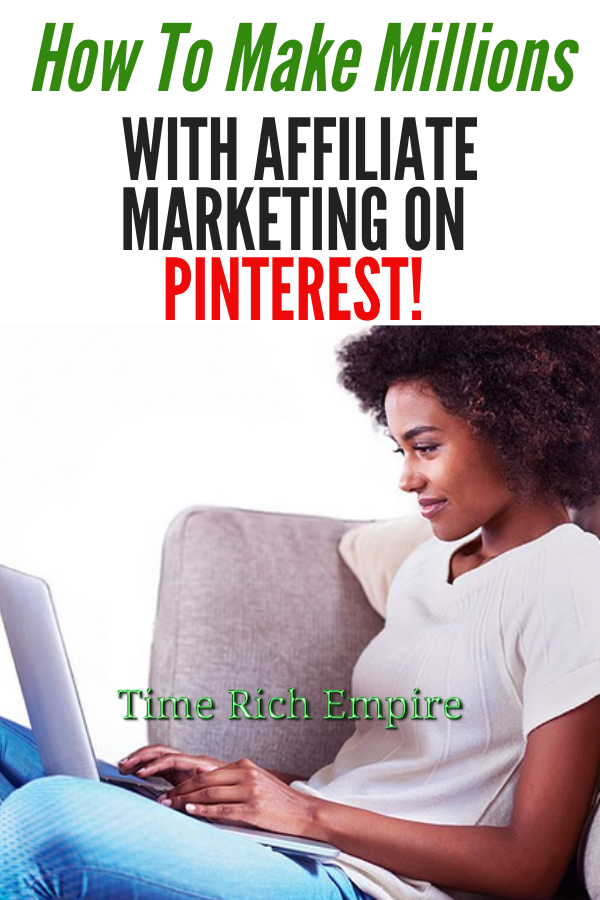 Building a high net-worth for himself through diversity and inclusion selling points.
Actress Gwyneth Paltrow received $50 million in Series C funding, giving her website Goop a valuation of $250 million!! Guess, what if you join MagicLinks today you can become an affiliate marketing partner of Goop!
To be successful on Pinterest with affiliate marketing, you first must understand what categories are the most profitable to start creating your niche written content.
A key success strategy should be to think like a publisher on Pinterest. This is why you need a business profile and your own Self-hosted website.
The categories in Pinterest are like platform networks. These are considered as industries available for related niche written content to be distributed and promoted, an affiliate marketing dream come true.
There are seven top-performing categories in Pinterest, a gathering spot of discovery where people create the most niche visual written content.
Travel
Health and wellness
DIY home renovation projects
Women's style
Beauty
Food and drink
Motivational quotes
Evaluating these seven top-performing categories in Pinterest and reviewing MagicLinks there are just tons of opportunities to build million-dollar empires.
Creating "niche visual written content" around any of those top seven categories will be the fast solution to generating revenue on Pinterest using affiliate marketing.
Inside Pinterest is also a power user and every online platform has one. You can create your niche visual written content targeting their power user or offer niche visual written content created for underserved demographics.
A Pinterest power user is identified according to the Pew Research Center, the following demographics were the top frequenters of Pinterest in 2018:
Women (41%)
Caucasians (32%)
Age group 25-29 (39%)
$75,000+ (39%)
College+ (40%)
Suburban (31%)
Here are some best practice strategies to use for niche visual written content creations.
Remember I said "consistency" would be the best weapon for your success.
Start with creating visuals by writing or hiring someone to do this for you a total of 2 to 4 articles per week to post on your Self-hosted website. Where you will create niche visual content written featuring affiliate marketing links and post Pins to your articles on Pinterest. Also, you should create a total of 30 affiliate links a week according to MagicLinks to have the best success.
That means that your 2 to 4 articles should spread out to include a total of 30 affiliate links. If you do three Top 10 articles featuring 10 different affiliate links you will accomplish your goal!
Also, keep in mind that you are required to disclose that your article contains affiliate marketing links. See FTC guidelines.
You should also personalize your disclosure, like "We at XYZ website appreciate our fans! We do recommend affiliate marketing links from products we support and will receive financial contributions when you link to make purchases. You never pay extra by linking from our site."
Drive massive traffic to your articles by creating promotional Pins using Canva, they also offer a free version. So every week create Pins to syndicate your articles that feature 30 affiliate marketing links.
The one thing to keep in mind is that consistency is key!
It will take some time to start generating sales from affiliate marketing. However, following the success strategies mentioned in this article will be very helpful. You can generally start to expect to see sales in 15 days or so… Never stop, rest if you feel tired but never quit!
"I hope you make a billion dollars!"
To your success!
P.S. Hurry grab my book on Amazon TIME RICH EMPIRE: Wealth Freedom, Self Ownership, How-to Make Money In Your Spare Time Building Passive Income Secrets